T3 Part 6
Available in: FREE, Plus, PRO & Architectural
Next we will create all of the buttons. Click and then drag a Window box (P1 to P2 below left) to select the button. Now pick the Rectangular Array

button. Click on any of the handles to define the reference point, it doesn't really matter which because the array X & Y spacing will be set by distance. On the Ribbon will now show the options for a rectangular array. Set both the 'No. X' and 'No. Y' to '5' .Press

and type '12.5' and

then '11.5' and

. The array will now be complete a shown below right. Click anywhere to deselect the original entities.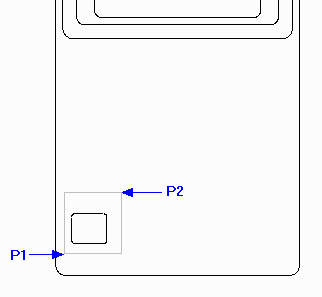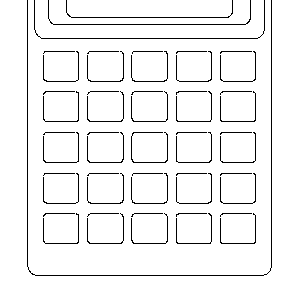 Now we will combine two buttons to make one large button. Zoom in to the area shown below left. Click and then drag a Crossing box from P3 to P4 (below left) to select the entities to delete. The entity handles will be displayed. Now press the 'Delete' key, the result should be as below centre. Now simply select the Line command

, make sure Snap (

) is set and add two lines, between the endpoint's P5 and P6 and then the endpoint's P7 to P8. The combined button should now appear as below right.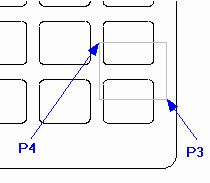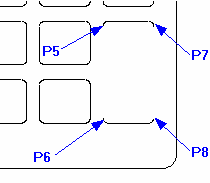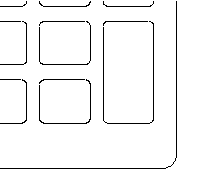 Now modify the top row of buttons by deleting the top left most button and combining the remaining four buttons into two as shown. Remember select the lines to delete using a right to left Crossing box.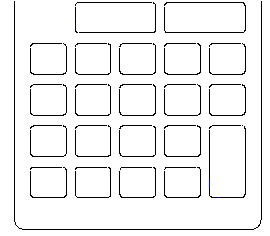 Do you have a question?
If you need help deciding which of our CAD systems is right for you.
Or maybe you need to chat about our bespoke development service.
Call us, email us, we are here to help.