Selection Filter
Available in: Pro and Architectural
The Selection filter feature

allows specific selection of drawing entities based on various entity properties. For example it is possible to select all lines that are red and located on a certain layer (i.e select only red lines on the 'detail' layer), or select everything that is not a line or an arc. This allows selection of entities based on the defined criteria whereas the only other way to do this would be by normal selection techniques (one at a time and by area).
The selection criteria set applies to the current Selection set (so it is possible to apply your selection filter to part of the drawing) or the entire drawing if no entities are selected. When selected the following dialog box is displayed.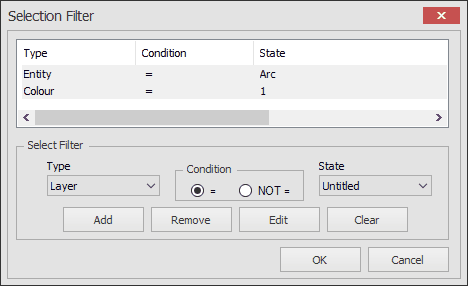 For an entity to be selected it must match ALL of the filters listed in each row of the window at the top of the dialog box. In the example above the first filter is 'Entity = Arc' . The second filter is'Colour = 1'. If the 'OK' button is clicked with this selection criteria then only red arcs within either the Selection set or the entire drawing will be selected. The colour number refers to the colour currently assigned to that Pen number.
The area of the dialog box below the top window entitled 'Select Filter' is used to modify the list as follows.
Add - Adds the current settings of the 'Select Filter' to the list as a new Selection filter. For example if 'Add' was clicked in the example above the list would be updated as follows.

'Types' available are:- 'Entity', 'Layer', 'Colour', ' Line Style'.
'Conditions' can be either '=' (equal to) or 'NOT =' (Not equal to).
'State' displays the options available for the 'Type' selected. i.e If the 'Type' is 'Colour' a list of available colours is displayed. If the 'Type' is 'Layer' a list of available 'Layers' defined on the drawing are displayed. etc.
Remove - Removes the currently highlighted selection filter from the list.
Edit - Edits the currently highlighted selection filter. For example if second filter 'Colour = 1' was highlighted, then the 'Edit' button could be pressed. The select filter display would change to:-

You could then for example click in the 'state' box to (in this case) change the colour).

Click update to apply the change to the list.
Clear - Clears the entire selection list
Any questions?
Perhaps you need help deciding which of our CAD systems is right for you, or maybe you need to chat with us about our bespoke development service.

Don't hesitate to get in touch. The Draft it team is dedicated to ensuring you get the best design experience on the market. Whatever you need - call us, email us – we're here to help.