Printer Settings
Available in: Pro, Architectural
This Printer Settings

command presents a the following print dialog box allowing you to select which printer to print to and to modify the various settings and options.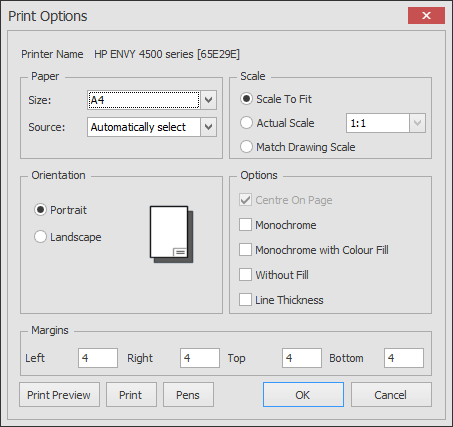 Here the left hand side of the box contains standard settings for control of the paper size, source and paper orientation. The lower section contains the printer margins (mm) and access to the Print, Print Preview and Pens functions. You can modify all of these settings to suit your requirements.
On the right side there are the 'Scale' & 'Options' group settings.
Scale
'Scale To Fit' will fit the contents of the drawing to the sheet size selected paper size in this dialog box.
'Actual Scale' allows one of the predefined scales or a user input scale to be selected.
'Drawing Scale' if you want to print your drawing at the predefined scale. This would normally be the setting to use unless you wanted to print a 'not to scale' print i.e. reduce or enlarge the print to fit a particular sheet. eg. print an A3 sheet onto an A4.
The drawing will be positioned aligned with the left & bottom margins set in this dialog box unless the 'Centre On Page' option (below) is ticked in which case the centre is positioned at the centre of the printed sheet.
Options
The Centre On Page option forces the drawing to be positioned at the centre of the printed sheet.
The 'Monochrome' option allows a monochrome print to be output without having to change any of the Pens settings.
The 'Monochrome with colour fill' option produces a monochrome print but any filled areas are print with there assigned colour.
Switch Line Thickness on/off to control whether or not to output any line thicknesses assigned to Pens.
Any questions?
Perhaps you need help deciding which of our CAD systems is right for you, or maybe you need to chat with us about our bespoke development service.

Don't hesitate to get in touch. The Draft it team is dedicated to ensuring you get the best design experience on the market. Whatever you need - call us, email us – we're here to help.