Multi Line Styles
Available in: Pro and Architectural
Select the multi line styles button

and the following dialog box is displayed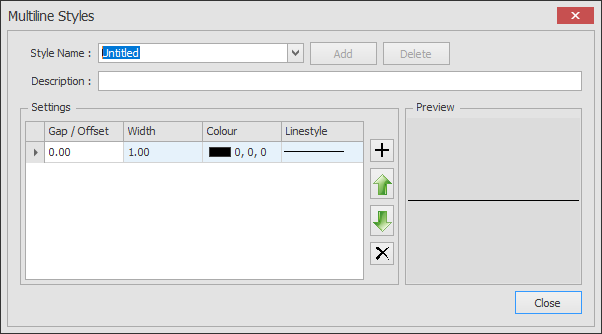 Here multi line styles can be created and modified. If a new style name is typed in the 'Add' button becomes active, click on this to add the new style. You can also add a description if required.

The image below shows the layout settings used to control the currently selected style. Each style can contain any number of lines, use the

button to add lines to the style, use the

button to remove the current line. The

and

buttons an be used to re-order the lines.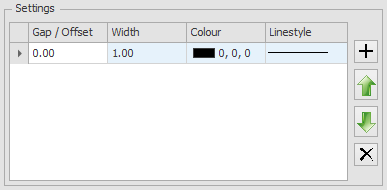 The appearance of the multi line is controlled by the order of the lines in the list. So the 1st line in the list in a lot of cases would have an offset of 0.00 as this is the controlling line (or the line drawn through the points indicated). The Gap/Offset value for each line is measured from the previous line. In addition to the Gap/Offset each line has a width setting (current units), a Colour and Line Style. multi line settings are associative so if you change any of the settings of the style then all of the multi lines on the drawing will update accordingly.

To delete a select the name from the list and click on the 'Delete' button. You cannot delete a style that is in use on the drawing. If you want to do this you must first either Explode any multi lines using the style or change them to a different style.

More information can be found in the multi line topic.
Any questions?
Perhaps you need help deciding which of our CAD systems is right for you, or maybe you need to chat with us about our bespoke development service.

Don't hesitate to get in touch. The Draft it team is dedicated to ensuring you get the best design experience on the market. Whatever you need - call us, email us – we're here to help.