Hot Keys
Available in: PRO & Architectural
Select the Hot Keys button

and the following dialog box is displayed.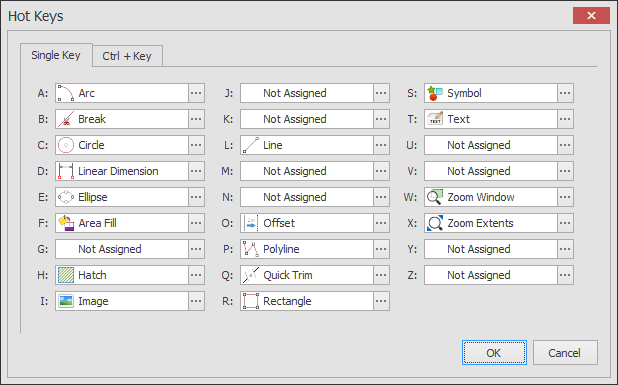 The dialog box consists of two pages, 'Single Key' and 'Ctrl + Key'. On the 'Single Key' page each letter of the alphabet can be assigned to a command so that the command can be selected via that key. So for example in the above image the letter 'A' has been assigned to the 'Arc' command. So whenever there is no current command i.e. the command prompt reads: Select Command or Item(s) to Modify, Click & Drag for Multiple Selection then the 'A' can be pressed to start the Arc command. The same is true on the 'Ctrl + Key' page except that only 8 letters in combination with the CTRL key can be assigned a short-cut. This is because the other 16 are already used by standard Draft it short-cuts and are therefore not selectable.

To set a new hot key or change a current setting click on the 3 dots symbol at the end of the particular key, for example we can set a command for the 'V' key (see below).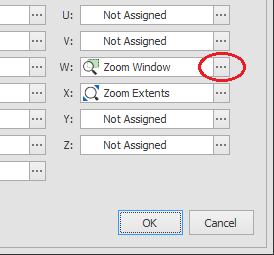 The 'Hot Key Picker' dialog box is displayed. In this example the Vertical Construction Line command will be assigned to this key. First select the Category containing the command, in this case 'Constructions' (highlighted below).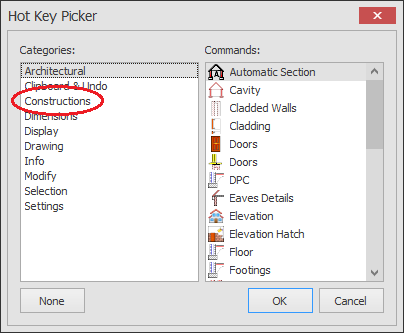 Click on the command then OK to complete the Hot Key assignment.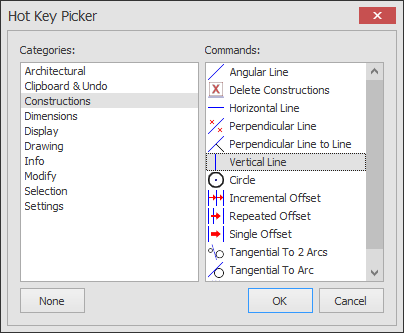 The 'None' button allows a key assignment to be removed from a key. It is not necessary to use this if the assignment is simply to be changed to another command, if that is the case just follow the process described above.
Any questions?
Perhaps you need help deciding which of our CAD systems is right for you, or maybe you need to chat with us about our bespoke development service.

Don't hesitate to get in touch. The Draft it team is dedicated to ensuring you get the best design experience on the market. Whatever you need - call us, email us – we're here to help.