Measure
Available in: Plus, PRO & Architectural
This command

measures the distance between two points.
When selected the command prompt reads:
Give First Point:
Select the first point to any of the snaps and input options. A dynamic line will be drawn from this point to the cursor. The prompt now reads:
Give Second Point:
Select the second point to dimension using any of the snaps and input options.
The following dialog box is displayed containing the co-ordinates of the two points selected. Also the straight line, horizontal and vertical distances and the angle of a straight line between the points.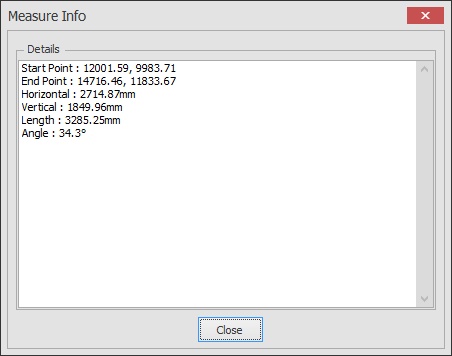 Any questions?
Perhaps you need help deciding which of our CAD systems is right for you, or maybe you need to chat with us about our bespoke development service.

Don't hesitate to get in touch. The Draft it team is dedicated to ensuring you get the best design experience on the market. Whatever you need - call us, email us – we're here to help.