System Paths
Available in: Plus, PRO & Architectural
The system paths command

allows a default location to be set for templates and Symbols as well as control of the 'Autosave' feature..
Simply select the folders (directory) where these files are located.
The template directory set here is the default location where template drawings are saved to when the Save As Template command is selected and where Draft it looks for template drawings when the New from Template is selected.
The symbol directory set here is the default location where symbols are saved to when the Build Symbol command is selected and where Draft it looks for symbols when the Insert Symbol command is selected.
It is possible to change these settings to suit the type work you are doing. i.e store symbols for different types of drawing work in different folders so that the path could be quickly changed to access a particular set of symbols.
These path settings allow network drives/folders to be set so that groups of users can use the same data.
The Autosave directory can be changed although normally this is not necessary.
If enabled the Autosave feature can create a backup copy at the specified interval of the drawing(s) currently being edited. If the feature is enabled and for whatever reason Draft it shuts down unexpectedly (power cut, PC crash etc.) then the Drawing Recovery box will be displayed the next time Draft it is started.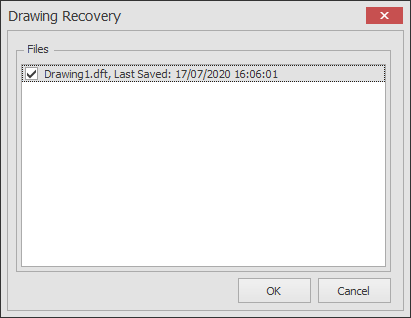 The box contains a list of any drawings that were open when forced closure of the system occurred. Select the OK button and the last automatic save of that drawing(s) will be loaded. The recovered drawings are discarded by the system when they are de-selected by removing the tick next to their name.
Any questions?
Perhaps you need help deciding which of our CAD systems is right for you, or maybe you need to chat with us about our bespoke development service.

Don't hesitate to get in touch. The Draft it team is dedicated to ensuring you get the best design experience on the market. Whatever you need - call us, email us – we're here to help.