Use the 15 day trial
Available in: FREE, Plus, Pro Architectural
Once installed you can use the FREE version of Draft it indefinitely, during the first 15 days you can also use the Plus, Pro and Architectural versions.

Start Draft it using the icon on your Desktop or on the START menu. The following dialog box will appear. The FREE version can be selected and used without any registration or time restriction. The number of trial days remaining for the 3 other versions is displayed to the right, this 'counts down' day by day.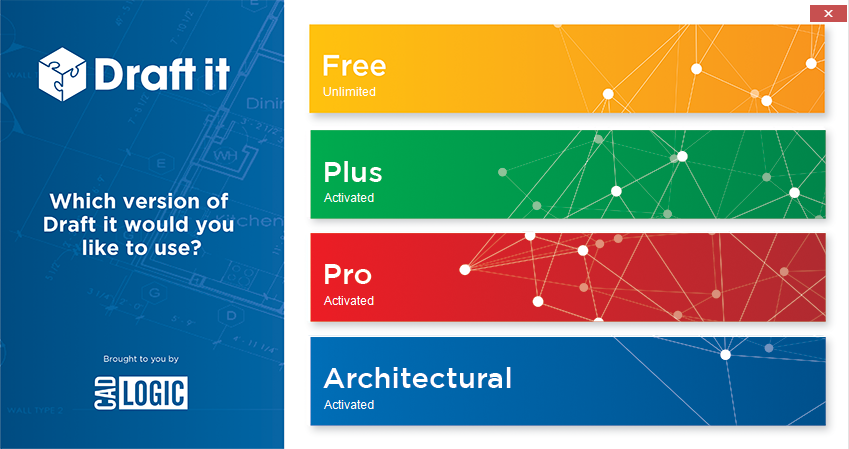 To exit the program at this point click on the selected version again to de-select it (or click NO), then click EXIT
Simply click on any of the 4 buttons to select the version you would like to use. In the example below the Pro version has been selected.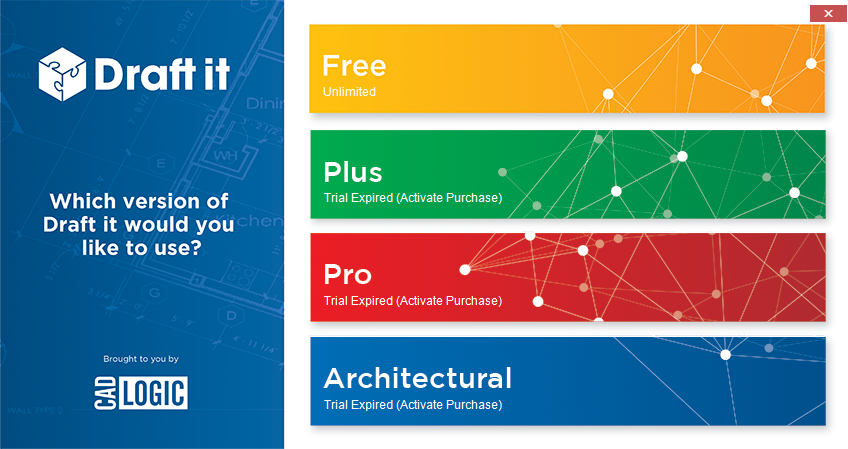 You will see that 'Yes' and 'No' buttons have replaced the 'Exit' button in the bottom right hand corner. Click 'No' to cancel the selection or click on the 'Yes' button to confirm your selection and the following dialog is displayed.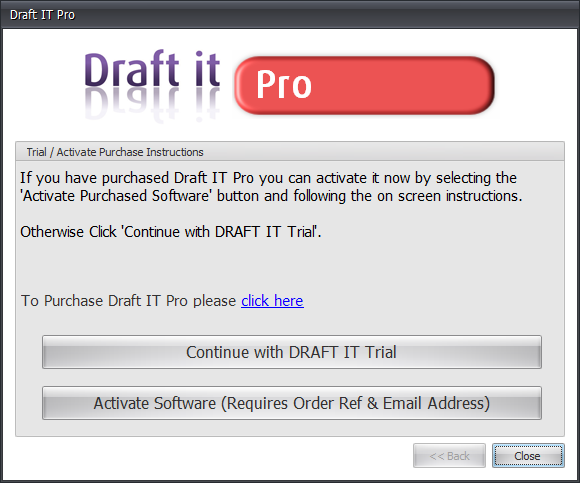 In the example above the Pro version has been selected. Click on 'Continue with Draft it Trial' to start the program. If you have purchased the version selected you may activate it at this point by selecting the 'Activate Software' button. See the list at the bottom of this page for details how to activate your version.
Once the program starts you can use all of the features of the selected version for that session i.e. until you close Draft it.
You can select any of the 4 versions each time that you start Draft it, the previous selection will be remembered but you can change it.
Once the 15 day trial has expired the number of days remaining will show 'Trial Expired' (example below shows the Pro as the selected version). Only the FREE version can be used from this point without activation. The 3 other versions will require activation before they can be used.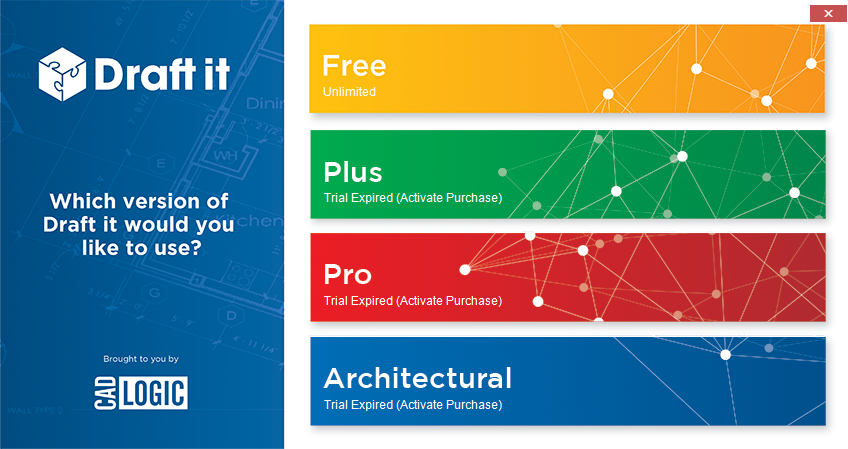 For details how to activate each of the versions use the links below.
The FREE version does not require activation.
Any questions?
Perhaps you need help deciding which of our CAD systems is right for you, or maybe you need to chat with us about our bespoke development service.

Don't hesitate to get in touch. The Draft it team is dedicated to ensuring you get the best design experience on the market. Whatever you need - call us, email us – we're here to help.