Points
Available in: PRO & Architectural
The Points command allows the appearance and size of Points to be changed. Click on the button

to open the following dialog box.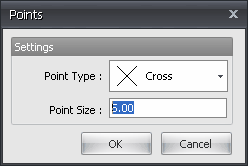 Click on the 'Point Type' field to display the following options.

Modify the value in the point size field to change the current size.
Click 'OK' to update the drawing to the revised settings.
Do you have a question?
If you need help deciding which of our CAD systems is right for you.
Or maybe you need to chat about our bespoke development service.
Call us, email us, we are here to help.