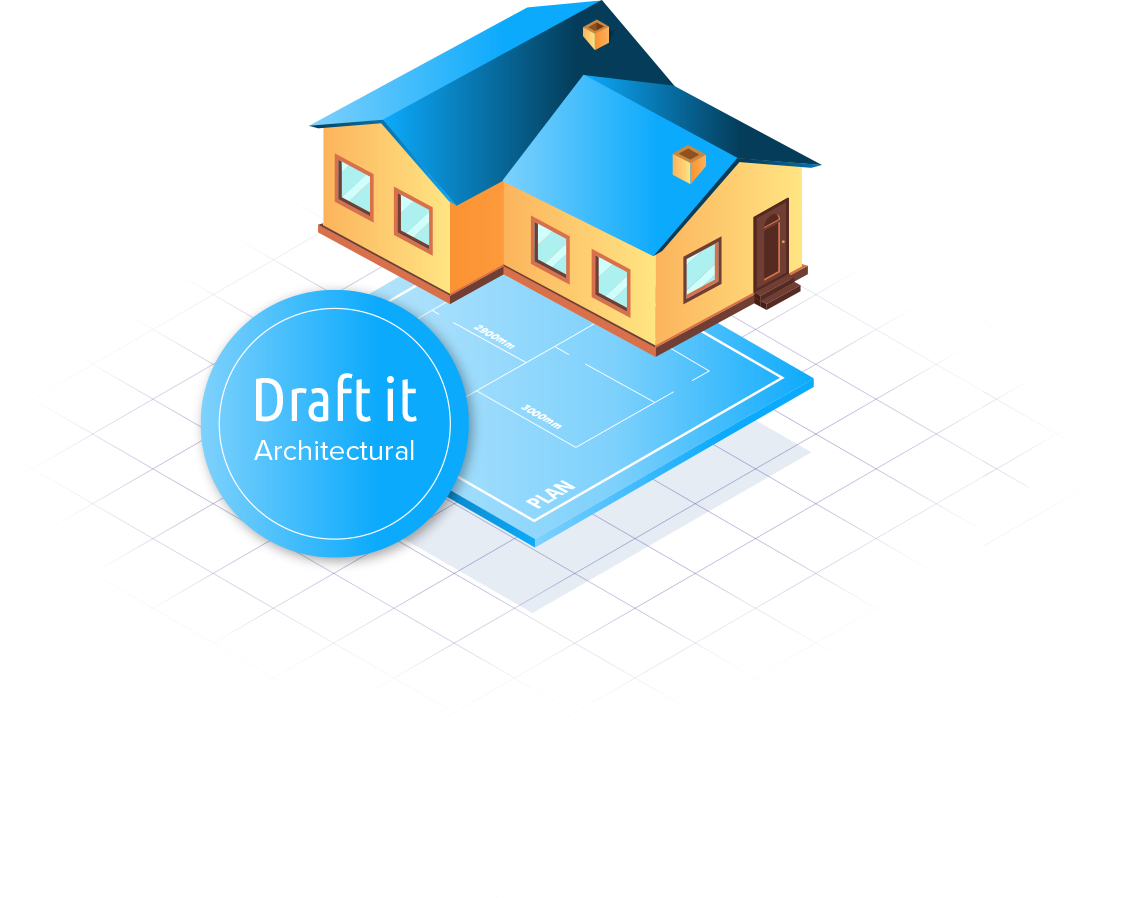 Powerful Architectural Design Software
Draft it Architectural is a powerful, low cost, Architecture Design Software for building planning. Used by architects, building designers, estate agents and professionals around the world.
The software features many time saving drafting tools for creating features such as doors, openings, windows, walls and roofs.
Why Upgrade to Draft it Architectural?

Low Cost Lifetime Upgrade
A low, one off upgrade cost to grab these new features and more.

Automatic 3D Model Viewer
View and rotate a 3D model calculated from the plan. Zoom and pan around with mouse actions.

Architectural Symbols
Hundreds of design components, inc. Electrical, Furniture, Heating, Kitchen fittings, Landscape and Plumbing.

Improved Wall Drawing
Easy wall drawing functions with quick closing profile options. Create walls in various styles.
More Draft it Architectural information
Draft it Architecture Design Software Features
Draft it Architectural contains all of the features of the Free, Plus & Pro versions and much more...
Wall Dimensions - Automatically add dimensions to walls. This feature adds sequential linear dimensions to each wall section and opening for doors and windows.
Wall Joining Tool - Extends and trims two walls together automatically updating the wall hatching.
Wall Teeing - Choose whether to tee in at wall intersections. You can change this as required after the walls are completed.
Wall Breaks - Specify either 'Block Return', 'Thermal break' or 'Rebated' for Cavity walls or 'Square' or 'Splay' for solis walls.
Place doors in walls, the opening is created and the wall ends are capped. Set Jamb, Sill, angle, thresholds, swing type etc.
3D DXF Export - Create a 3D DXF model from the drawing for export to other systems
Draft it Architectural CAD Software in Detail
The speed and the ease of creating building plans with Draft it Architectural combined with an affordable price tag makes it a logical choice for the home or office user.
The new Draft it Architectural Version 4 is faster and more powerful than previous versions whilst retaining its acclaimed ease of use. You can find out for yourself with the 15 day trial version, use the button below to download it.

Draft it Architectural CAD Software
Download Draft it Architectural and try it for 15 days.

Download
Draft it Architectural
15 Day Trial
OR
Purchase Draft it Architectural today for only £199 (GBP).

Purchase
Draft it Architectural
Only £199
Do you have a question?
If you need help deciding which of our CAD systems is right for you.
Or maybe you need to chat about our bespoke development service.
Call us, email us, we are here to help.