Draft it Plus V5 is a powerful and easy-to-use low cost 2D CAD Software that packs a mighty punch. With Draft It Plus V5 you can create detailed drawings with extended tools, input features and options for drawing/printing.
With the V5 upgrade you can now create your own templates, use additional drawing aids and lots of other additional features.
At just £20 (a one-time payment) or just a £5 upgrade fee, Draft it Plus V5 is the best value CAD software around. But don't just trust us, try it yourself with a free 15 days trial!

Try Draft it Plus V5 FREE for 15 days
Why Upgrade to Draft it Plus V5?

Low Cost Lifetime Upgrade
A low cost, one of fee cad software upgrade to grab these new features and more.

Additional Input Options
Use arrow keys to specify distance and directions, making using Draft it even easier.

Create Your Own Templates
Create templates to speed up your work and use features such as customisable line thickness and datum dimensioning.

Extending Drawing Tools
Including pens with multiple thickness settings; break, explode and stretch tools and extended copy and paste options.

Existing User? Upgrade to Draft it Plus V5
Create detailed drawings to express your ideas
with Draft it Plus V5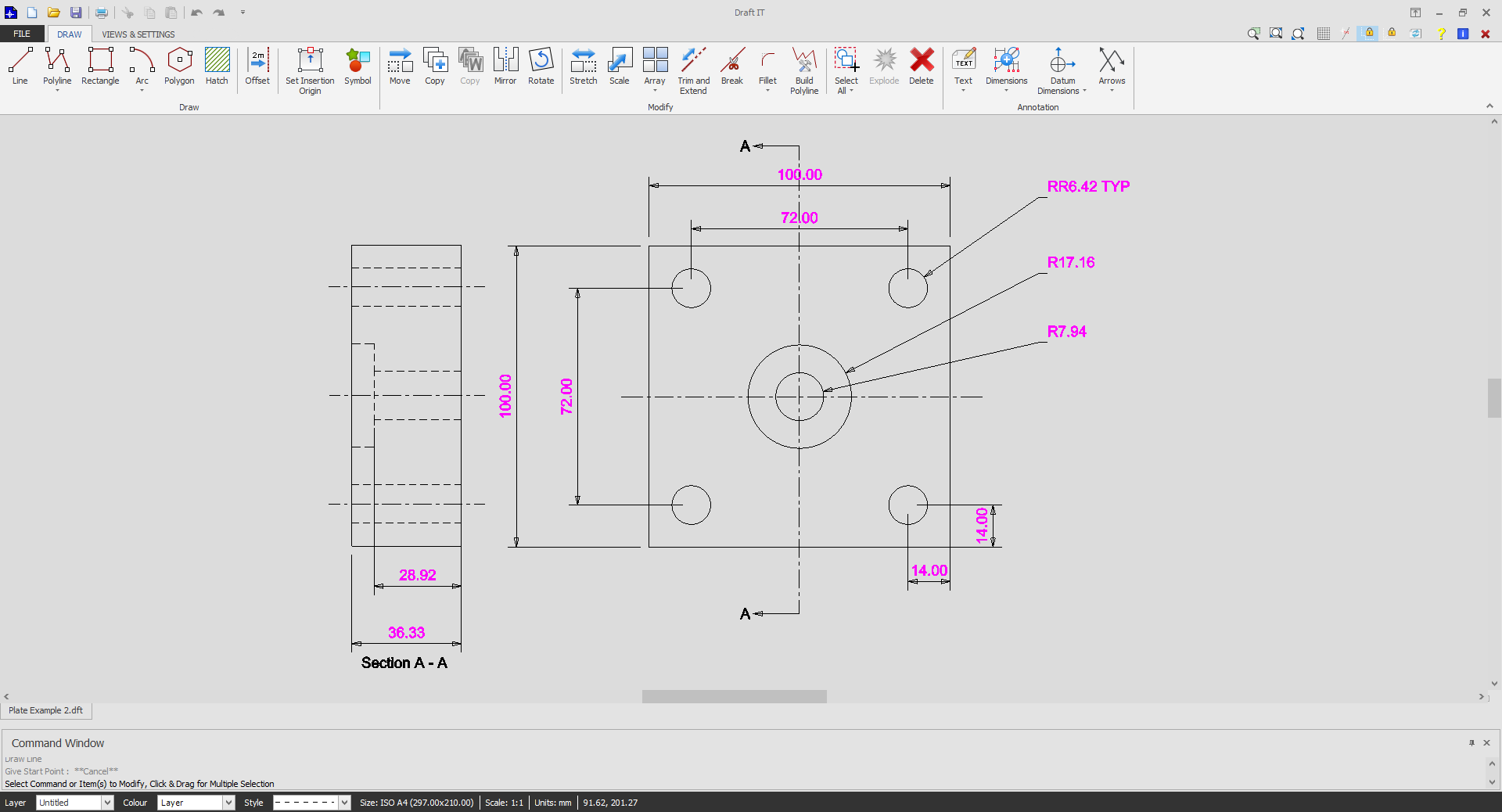 Draft it Plus V5
CAD Software Features
Draft it Plus V5 contains all the features of the FREE version and more...
Pens - Print or export line thickness, separate pen sets for display & printing
Selection Filters - Quickly select entities matching a specific criteria
Arrow Key Input - Specify distance or direction using the keyboard arrow keys
Modification Tools - Fillet, chamfer, blend, break, explode, stretch
Drawing Aids - Direct input, X & Y snap, entity info, measure
Templates - Create your own template drawings

Get started on your CAD design journey today
Draft it Plus V5
CAD Software in Detail
The new version of Draft it PLUS is a feature packed,
low cost cad software upgrade from the FREE version of Draft it.

Draft it Plus V5 is faster, more powerful and has a vastly improved graphical user interface whilst retaining its acclaimed ease of use.

This version is a Low Cost 2D CAD software that is suitable for all users, in the office or at home.



Now you can upgrade your FREE Draft it system to Draft it Plus V5 for just £20*.

Try Draft it Plus FREE for 15 days
Learn about our other Draft it V5 versions
We have multiple versions of Draft It V5 to unlock your 2D drafting tool belt and elevate your CAD design work to new heights! See our other packages below:
Learn More About Draft it
Any questions?
Perhaps you need help deciding which of our CAD systems is right for you, or maybe you need to chat with us about our bespoke development service.

Don't hesitate to get in touch. The Draft it team is dedicated to ensuring you get the best design experience on the market. Whatever you need - call us, email us – we're here to help.