Maximum Activation Count Exceeded
By default you can automatically activate any newly ordered full licence or upgrade twice. If you attempt this third time as message box similar the that shown here will appear.

This is normal. To get a new activation code click OK in the box and then click on the 'Maximum activation count exceeded' link highlighted in RED below.
The following form appears. You must enter your name, country and most importantly your email address and 'Order Ref', these two fields identify you and your licence. Once you have done this click on 'Apply'. This emails all of the data to us.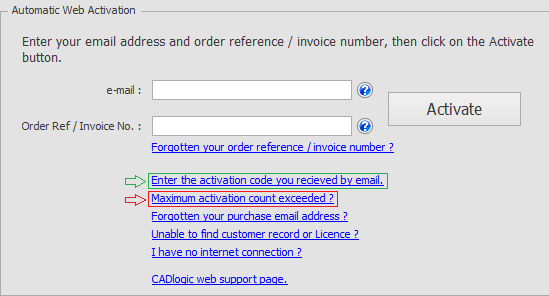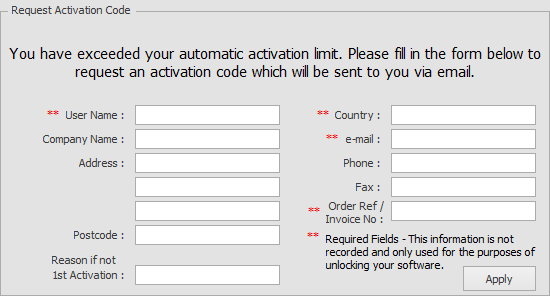 NOTE: We process the emails manually, we cross reference the data to validate the activation request. This happens normally during UK office hours, please be patient and send your request ONCE only. Multiple requests only slow down the system.
Once you receive the email click on the Enter the activation code you received by email link highlighted in GREEN in the first image above. Then complete the activation as described above in the 'Enter the activation code you received by email' section of this topic.
Any questions?
Perhaps you need help deciding which of our CAD systems is right for you, or maybe you need to chat with us about our bespoke development service.

Don't hesitate to get in touch. The Draft it team is dedicated to ensuring you get the best design experience on the market. Whatever you need - call us, email us – we're here to help.