I have no Internet Connection
This is a common Activation support issue. An internet connection is required to activate Draft it. If you attempt to activate Draft it via any of the links on the main activation form then you will see this message.

Click OK.
So if you have no internet connection on the PC you want to activate the program on you need to click on the 'I have no Internet connection' link highlighted below.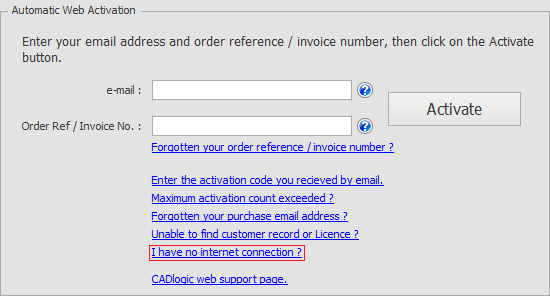 The 'No Internet Connection' form (similar to the image below) is displayed.
Make a note of the the web address and request code. You will also need your order reference number. Now via another PC with internet access you need to visit the web page for your specific version of DRAFT IT, these are listed below:-
Draft it Plus -
Draft it PRO -
Draft it ARCHITECTURAL -
Activate Draft it Architectural
On the page complete the form and click on the 'SEND' button (you must fill in the the fields marked **). The web page will display a message saying either ;-
'Thank you Your activation code will be forwarded to the email address specified.'
or
ERROR Please make sure you have:- Entered a Name, a valid email address, your Country, your Request Code & your Order Reference. Use your browser 'back' button to return to the request form.
NOTE: We process the emails manually, we cross reference the data to validate the activation request. This happens normally during UK office hours, please be patient and send your request ONCE only. Multiple requests only slow down the system.
Do you have a question?
If you need help deciding which of our CAD systems is right for you.
Or maybe you need to chat about our bespoke development service.
Call us, email us, we are here to help.