Save View
Available in: PRO & Architectural
When the 'Save View'

button is selected the following dialog box is displayed.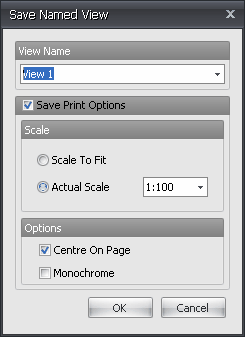 Enter a unique view name in the 'View Name' field. By default Draft it names each new view 'View n' where 'n' is an incrementing number.
You can pre-assign print settings for this view. If 'Save Print Options' is selected these setting are transferred to the Print Settings when Print is selected.
Do you have a question?
If you need help deciding which of our CAD systems is right for you.
Or maybe you need to chat about our bespoke development service.
Call us, email us, we are here to help.