Company Overview
Neatsmith are a successful family run business based in London that design, craft and install luxury bespoke wardrobes. The company was established more than fourteen years ago, and now have a team of dedicated designers, cabinet makers and fitters, prioritising innovative design, quality and service.
General Requirement
Neatsmith required a design solution that could streamline the creation of design and manufacturing drawings, but with sufficient flexibility to cater for the majority of the design variants required for each individual bespoke installation.
Specific Requirements:-
Speed up Drawing creation

Automate cutting data information

Reduce re-input of data to minimise errors

Solution
The brief was to replace the existing AutoCAD based design systems with a bespoke system to automate as much of the design process as possible. After our discussions with Neatsmith the Cadlogic team devised the concept of the 'Wardrobe Creator' system.

Example Wardrobe designed in Wardrobe Creator
The key features of the system being:-
Creating wardrobe sections movie
Ability to specify high level properties of a wardrobe such as door type and layout.

Automatic generation of all of the main timbers required to construct the wardrobe.
Automatically create wardrobe content movie
Extensive database of clients product options movie
Layout rules such as precise margins between moving components (doors and drawers) are built into the software so that designers can create the components and correct margins are maintained automatically

View the design in 3d and 2d plan or 2d elevation. All these views are connected to a single internal model so it is possible to add/modify/remove components in one view and the changes are reflected in other views.
Hanging rail creation tool movie
Opening doors and drawers movie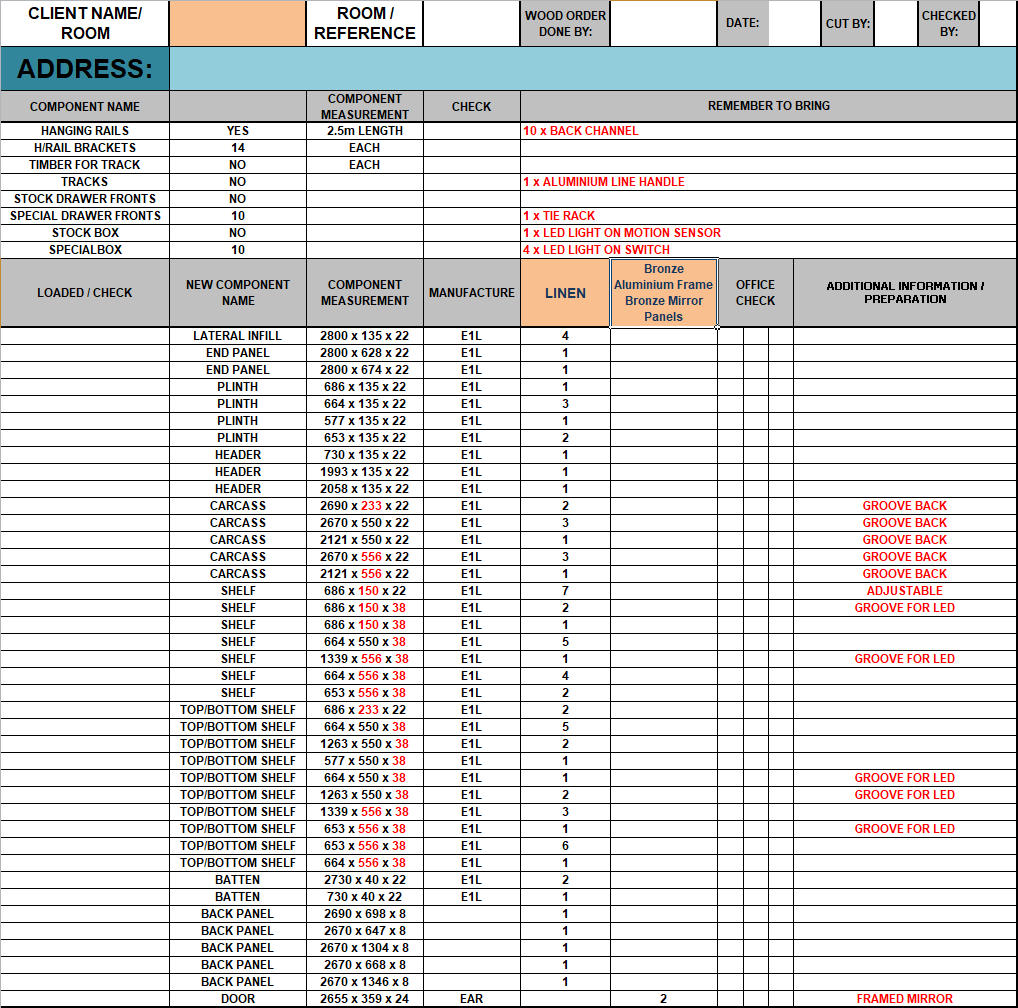 Automatically created cutting list
Ability to make designer aware of anything that might be a problem, such as rails with insufficient hanging space beneath, or components which are dangerously close to door hinges and might be difficult to access. These rules are displayed as warnings to assist the designer, whilst allowing the designer to ignore them should they choose.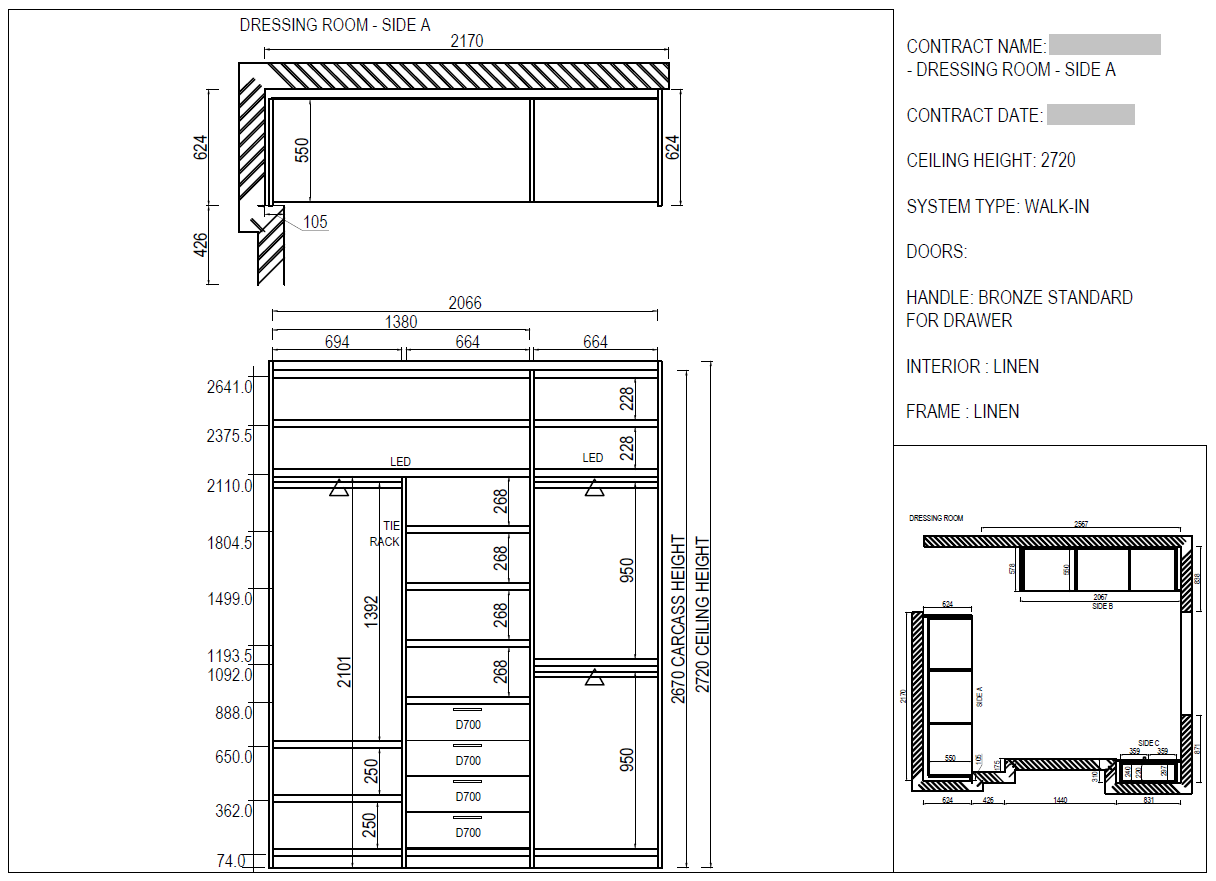 2D plan and elevation drawing generated by the system
Development and Testing
As with all Cadlogic bespoke systems Neatsmith were kept up to date with the progress of the development. This included demonstrations of functionality at key stages, inviting their input to maximise the fine tuning of the system.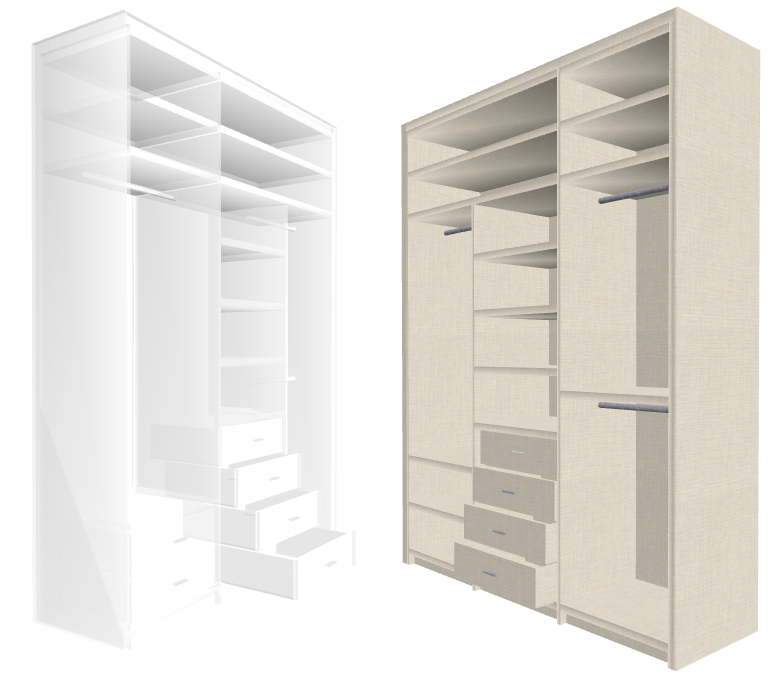 3D Images of the wardrobe generated by the system
Neatsmith comments
'The system has allowed us to eliminate all of the human error inherent in manually inputting details into a cutting list. Consequently we have been able to deal with the increase in sales this year without employing any additional CAD staff. Looking forward to version 2'!
(Mathew Nagel, Neatsmith Director.)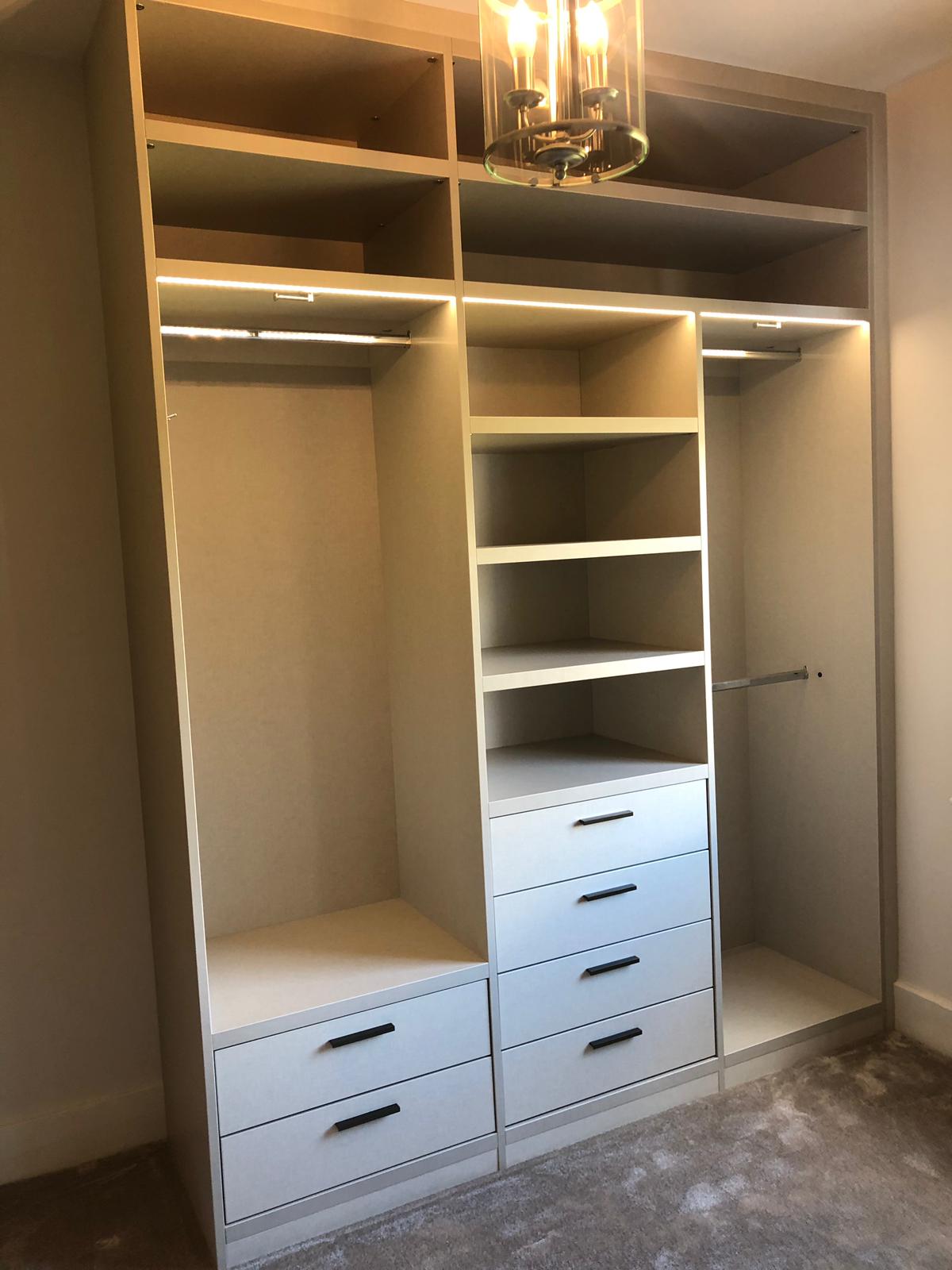 Photograph of the installed Wardrobe
The success of the program since the initial version has allowed Neatsmith to engage Cadlogic to enhance the functionality. Recent additions include:-
Adding new products, colour, styles etc to the database of customer options
Adjusting neatsmith-specific rules about how components are laid out (margins, component sizes etc)
Adding new tools to automatically create and lay out content, for example bespoke sized drawer fronts that wrap around internal carcasses
Adding tools to automatically generate dimensions for construction drawings